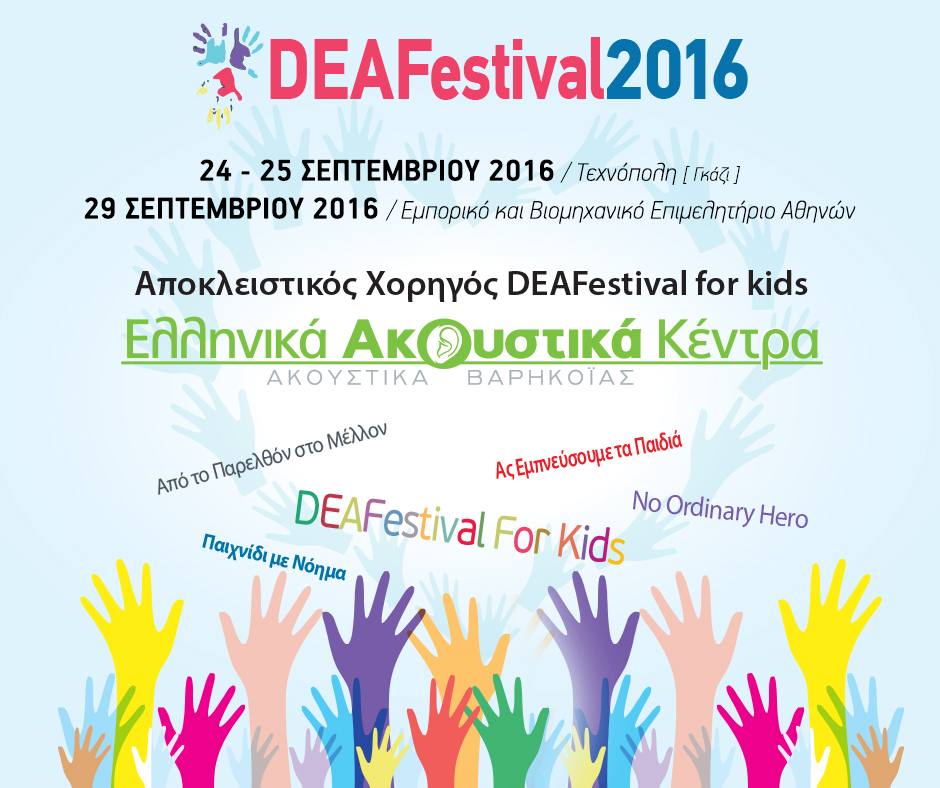 21 Sep

Greek Hearing Centers are the exclusive sponsor of DEAFestival for children, held on September 24th – 25th, at Gazi Technopolis

Greek Hearing Centers stand by children with hearing loss and prove their sensitivity for the life improvement of those with hearing loss, by participating at the DEAFestival for kids as the exclusive sponsor.

The DEAFestival for children will be held on September 24th – 25th at Gazi, Technopolis and is part of the DEAFestival 2016, organized by the Hellenic Federation of the Deaf, under the auspices of the National Confederation of People with Disabilities.

During the weekend, there will be theatrical shows and puppet theater.

Visitors will have the opportunity to be informed by our specialized team, regarding the current developments in the technology of hearing aids and our product catalog.

Moreover, all visitors will be able to participate in our draw on Sunday, September 25th. The prize will be a pair of hearing aids for children, custom made to fit the needs of the winner. The winner will be selected by the Greek National Deaf Tae Kwon Do team, who recently won 8 medals at the World Championship, held in Samsun.

Greek Hearing Centers invite all parents to participate in this event and help the Hellenic Federation of the Deaf to promote the culture of Deaf and Hearing Impaired people in Greece.